ITEM: PARACHUTE.
TYPE: Re/Invention, Flight, Military.
DA VINCI DRAWING: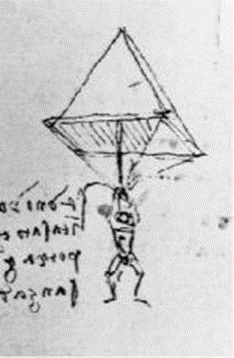 MAIN REASON FOR ITS CREATION:
Click here for information.
INNOVATIONS INTRODUCED:
There is evidence that Parachutes were invented before Leonardo's time.
What is certain of Leonardo is that he would have improved upon existing designs in Italy or re-designed the parachute totally.
LEONARDO'S QUOTE:
'If a man have a tent made of linen of which the apertures have all been stopped up, and it be twelve braccia across and twelve in depth, he will be able to throw himself down from any great height without suffering any injury.'
DESIGN SPECIFICS:
SIZE: 7.20 meters long and high.
MATERIALS:
The parachutes' frame is instructed to be made of wooden poles and a cloth of linen.
CONTEMPORARY EVALUATION BY EXPERTS:
– NO HOLE AT TOP –
Scientists believed that a hole is needed at the top of the parachute to aid balance when falling from a height.
– DANGER IN THE LANDING –
The parachute is considered heavy and solid enough to harm the pilot upon landing if he or she is of a relatively lightweight compared to the parachute.
DESIGN TESTS:
– SUCCESS! –
2000, 25 June: The parachute was tested successfully from a height of 3000 meters.
INTERESTING POINTS:
– SMOOTHNESS IN FLIGHT –
The tester noted after the test that the ride was smoother than contemporary parachutes.
– TESTER TRUE TO LEONARDO'S VISION! –
The tester by the name of Adrian Nicholas was adamant to test the parachute strictly to Leonardo's specifications. This meant he tested the parachute successfully and without injury with no hole at the top of the parachute. He also disregarded the possibility of being harmed by the weight and robustness of the parachute (coupled with the additional impact of the velocity in a landing) as he weighed a relatively lightweight of 90 kg in relation to the parachute.