Da Vinci Invention
Machine Gun! (Three Tier)
ITEM: DA VINCI INVENTION MACHINE GUN (THREE-TIER)
TYPE: Invention, Military, Weaponry.
DA VINCI DRAWING: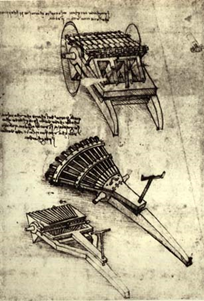 :Leonardo explored different examples of machine guns.
(Three-Tier gun: top of picture)
MAIN REASONS FOR ITS CREATION:
* To provide a patron means to be able to inflict considerable damage to approaching soldiers.
* To explore the great forces created by mechanical devices.
INNOVATIONS INTRODUCED:
This Machine consists of eleven barrels in each of the three tiers, into which projectiles will be loaded.
The aim of the tiers is that in rotation, the first tier is fired while the second tier can be loaded. This allows for the third tier to cool down before its turn in the rotation to be loaded and fired again.
INFORMATION: Leonardo always aimed to increase the firepower of the weapons he worked on and to maximize their overall destructive capacity. He did this for both his Patron's benefit in having superior firepower compared to his rivals and for his own personal, intellectual curiosity.