TITLE: LEONARDO DA VINCI PAINTING ST JOHN THE BAPTIST
DATE: 1514
DA VINCI'S AGE: 62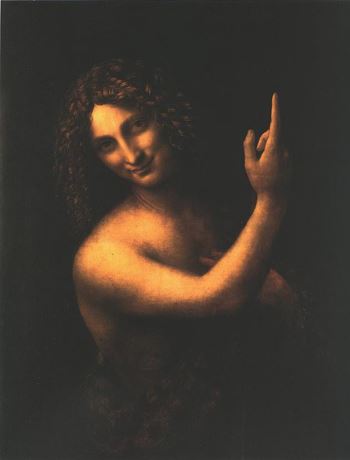 ~ Leonardo Da Vinci Portrait St John the Baptist ~
:Leonard's best friend as St John the Baptist.
SUBJECT MATTER:
John the Baptist is believed by many to be the profit previous to Jesus.
TYPE: Portrait / Biblical figure, oils on walnut wood
SIZE: 69 × 57 cm's
INNOVATION INTRODUCED:
Leonardo painted John the Baptist as an androgynous figure.
PRESENT LOCATION:
The Louvre, Paris, France.
INFORMATION:
Leonardo's closest friend 'Salai' was the sitter for this painting.
MORE INFORMATION:
This painting is similar to the Mona Lisa as John bears a similar smile, though not as enigmatic.
AUTHENTICATION:
No dispute in the Art world that this a Leonardo original.
Other Leonardo Da Vinci's Painting Works:
Leonardo Da Vinci Painting St Jerome!
Leda and the Swan . . A Da Vinci Painting!
Leonardo Da Vinci Paintings, Inventions & Biography!