TITLE: LEDA AND THE SWAN
DATE: 1508
DA VINCI'S AGE: 56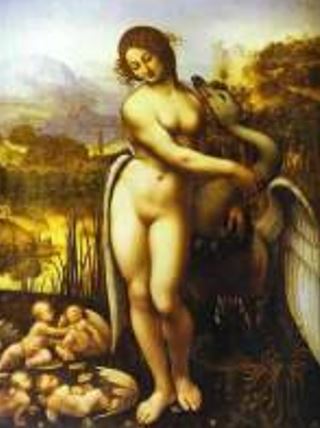 :Greek God of Gods Zeus seduces Leda.
SUBJECT MATTER:
In Greek mythology, the God Zeus transforms himself into a swan and travels to Earth to seduce a lady called Leda. She gives birth to two eggs that hatch to be Polydeuces and Helen.
TYPE: Oils on Poplar wood
PRESENT LOCATION:
The Wilton House, Wiltshire, England.
INFORMATION:
In this copy of the lost Da Vinci painting, Leonardo amalgamates his skill of painting, his knowledge of anatomy (and knowledge of how babies are formed within the anatomy of a woman) and his dream of flight. The myth of Leda and her swan mate probably would have touched Leonardo's comical side.
MORE INFORMATION:
Da Vinci's notebook shows that he was also planning a picture where Leda was sitting.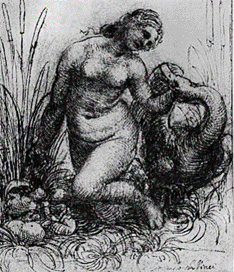 PREPARATION DRAWINGS: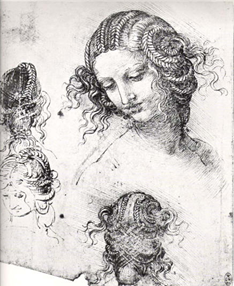 AUTHENTICATION:
This is a copy by an artist called Cesare Sesto painted in 1515 of the lost original Da Vinci painting.
It is due to the similarity of the preparation drawings in Da Vinci's notebooks that gives evidence that Leonardo would have painted the original.