ITEM: DA VINCI FLYING MACHINE / GLIDER.
TYPE: Invention, Flight.
DA VINCI DRAWING: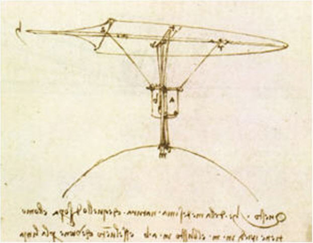 MAIN REASON FOR ITS CREATION:
* To achieve flight.
INNOVATIONS INTRODUCED:
This is the first ever plane design capable of flight.
INFORMATION:
This prototype model is one of the most practically usable of the Da Vinci flying machine designs.
The model design is closely related to what we consider to be a glider today.
MORE INFORMATION:
This Da Vinci Flying Machine can be considered as Leonardo's Magnum Opus in scientific design.
If this design had been established as a working machine in Leonardo's day, it would have led to an explosion in the development of aviation and technologies in general. It may also have made Leonardo wealthier than Michelangelo (who was the richest known artist ever at that point in history), which would have immensely pleased Leonardo.
DESIGN SPECIFICS:
MATERIALS:
Leonardo had designed the wing to be used with resin cotton and the frame to be made with bamboo shoots.
CONTEMPORARY EVALUATION BY EXPERTS:
– LENGTH TO WIDTH RATIO –
The specifics of the design show Leonardo having created a wing shape that could fly even though the length to width ratio is high by contemporary standard.
– TAILPLANE –
There is no tailplane that we recognise on planes today that is used to help balance the machine so it doesn't dip and crash in flight. Leonardo does add a semi-circle line at the bottom, which denotes the gliders likely hood to tip either backwards or forwards.
What is more interesting is that later to this design shown, Leonardo began drawing tailplanes possibly realising their use in balancing a bird in flight in nature. More likely still is that Leonardo left out a balancing mechanism on this design such as a tailplane in order to protect his idea.
– FLIGHT CONTROLS –
The apparatus attached below the wing is where the operator would stand to control the wing. It is made up of a pole connected to the frame of the wing and a T-bar, which the operator stands on. Upon pulling ropes attached to the back and front of the wing, the pilot can control roll and pitch in flight. Leonardo leaves instructions on how to successfully steer the machine but again he may have left misinformation intentionally to protect his idea.
DESIGN TESTS:
PROOF IS IN THE WING DESIGN
2002: In a test to prove if this Da Vinci flying machine would fly the project participants decided to focus on the wing design and prove if it was flight worthy. This decision was made to achieve the greatest amount of success and safety for the pilot. Ultimately, the only section that requires flight in a machine is the wing; everything else is used to maintain flight and to assist safety.
– SEMI-SUCCESS –
WING DESIGN
2002, 18th November: The design of the wing was successfully tested 5 times for the longest period of 18 seconds at a site in Wiltshire, England.
– MIXED SUCCESES –
TAILPLANE
A tailplane was added to increase balance in flight of the Glider. This is a mixed success because even though Leonardo did not include a tailplane on this design, he had begun to study them elsewhere in his notes. Also it is believed that Leonardo excluded a balancing mechanism intentionally for security purposes to protect his idea.
MATERIALS USED
Bamboo shoots were used in the contemporary test for the frame but the resin cotton was not for the wing material. The project participants knew without doubt that the cotton resin would work so they opted for a contemporary sail material to increase the chance of success further in order to test the wing shape itself.
– UNTESTED –
FLIGHT CONTROLS
Leonardo's flight controls were not used as they were considered not to provide adequate control for a safe flight. They were also seen as cumbersome for the men that were to assist the glider in lift off. The control was instead replaced with a contemporary glider A-frame. This was not an issue as Leonardo's glider would fly regardless of the controls even if they would not control the direction of the flight.