TITLE: LEONARDO DA VINCI ADORATION OF THE MAGI (KINGS)
DATE: 1481 (UNFINISHED)
DA VINCI'S AGE: 29
PATRON:
Monks of Scopeto / Church of St. Donator Scopeto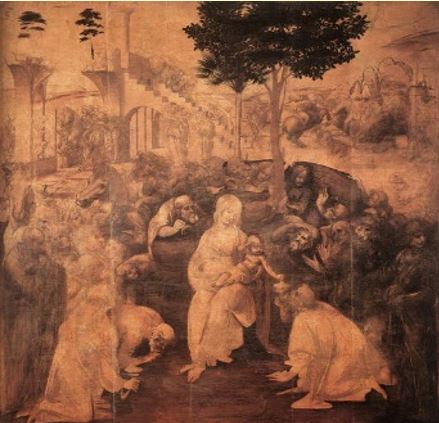 ~ Leonardo Da Vinci Adoration of the Magi (Kings) ~
:Leonardo's unfinished masterpiece.
NOTE:
This is an x-ray under drawing of the painting that Filippino Lippi had completed in 1496 and delivered to the Monks of Scopeto.
SUBJECT MATTER:
This scene depicts the three kings that traveled to see the birth of the new messiah, Jesus.
TYPE: Biblical scene, cartoon, charcoal, pen and ink.
Leonardo had also painted the ground in the picture which he did so in oils.
SIZE: 246 × 243 cm's (2.46 × 2.43 meters)
INNOVATION INTRODUCED:
Leonardo introduces a form of painting that will be later called chiaroscuro where the contrast of light to dark is increased the more closer a character is to the foreground.
There is a figure to the far right which is likely to be a self portrait of the 29 year old Leonardo.
This painting is full of biblical symbolism. A prominent example is the Roman building of the Basilica of Maxentiu in the top left hand corner which is under repair. In mythology, it was said that the Romans believed that the Basilica of Maxentiu will fall upon the birth of a child from a virgin mother.
PRESENT LOCATION:
The Uffizi Gallery, Florence, Italy.
INFORMATION:
This painting holds a fight scene with soldiers on horses which Leonardo will develop further in his depiction of the Battle of Anghiari.
MORE INFORMATION:
Leonardo dropped work on the painting to instead provide his service to Duke Lodovico il Moro.
Leonardo found the faces for his masterpiece in the streets and the marketplace in Florence.
The painting below is what Filippino Lippi had produced over Leonardo's' original in 1496.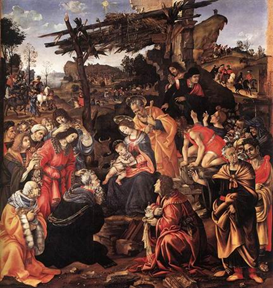 :This painting is completely different from Leonardo's vision.
PREPARATION DRAWINGS: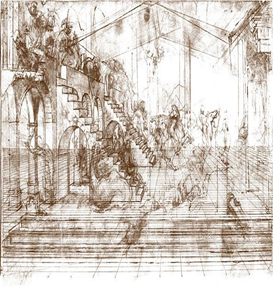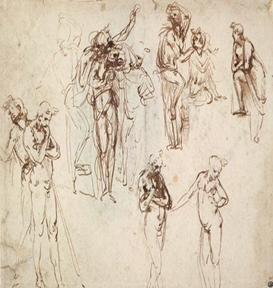 :These drawings are Leonardo's exploration of perspective and characters for the painting.
AUTHENTICATION:
The X-rayed under drawing is the only part of the painting that is attributed to Leonardo.