LEONARDO DA VINCI ROBOTIC EXPERTISE!
Leonardo Da Vinci is recorded as being the creator of the first robot in human form (1495). The Robot is a knight in appearance wearing the traditional for the time, Italian-German armour.
Leonardo had created other forms of robotics also, including a walking mechanical lion and a spring-powered car, which is considered to be the first programmable computer!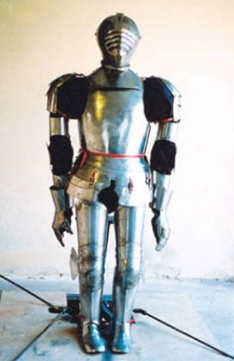 ~ Leonardo Da Vinci Robot! And his Robots! ~
:Knight
DA VINCI ROBOTICS: WHY LEONARDO CREATED A ROBOT!
Leonardo created his robot to prove to himself that a human beings' body could be imitated. He also built it to showcase it in working mode at parties for his patron Lodovico Sforz. The aim was to send the party members into amazement with his ability for theatrics. Da Vinci's robot would have been the highlight of the party with Leonardo at the helm of the crank powering the robot to move. The robot dressed, as a knight would have also tickled his patron's humour, as he was a man interested in military warfare.
Sadly, the Robot is lost or was destroyed long ago.
Leonardo used his initial studies of anatomy and kinesthetics in Florence to design the robot. His creation was an extension of his hypothesis that the human body is a machine in structure (we now recognize it as a chemically based machine) and that it's intricate movements could be imitated with the use of engineering machine parts such as levers and pulleys.
DA VINCI ROBOTICS: WHAT THE ROBOT COULD DO!
When Leonardo built his Robot in 1495, it had the capability to walk, stand and sit, open and close it's mouth and raise its arms. The robot could also move its head side to side which it did so with the use of a lissomneck. The robot is noted to have a jaw anatomically correct.
DA VINCI ROBOTICS: INTERIOR SPECIFICS OF THE ROBOT!
The robot was composed of two working structures. Firstly, there was a four-factor system that controls the hands, wrists, elbows and shoulders. Secondly, there is a tri-factor system, which controls the hips, knees and ankles.
The chest contains the means of power and controlling the four-factor system, which in turn moves the arms. The chest is said to be programmable in an analogue format.
The lower body and hence the tri-factor system is powered by a crank via a cable which in turn is connected to all the component parts of the leg.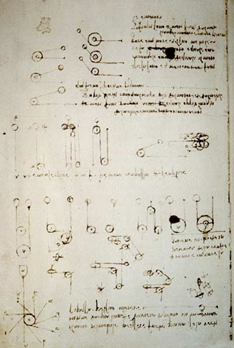 ~ Leonardo Da Vinci Robotic Expertise! And his Robots! ~
:Interior Mechanisms
DA VINCI ROBOTICS: NASA IS USING THE ROBOT!
ANTHROBOTS
Nasa has used Leonardo's robot designs as the basis and inspiration for a robot, which will man the International Space Station and eventually assist in colonising Mars. These robots being created by Nasa are called 'anthrobots'.
Leonardo is recognised as having made the most succinct and detailed drawings of the human anatomy, which are easily comparable to anything modern technology can produce today. Therefore Leonardo's designs of both anatomy and robotics have been crucial in the creation of Nasa's Anthrobot.
DA VINCI ROBOTICS: STORY BEHIND NASA'S ANTHROBOT
ROBOT EXPERT AND FAN OF LEONARDO DA VINCI!
An expert on robotics (who created his own company of robotics) by the name of Mark Rosheim spent 5 years of his life on bringing Leonardo's robot to life and adapting it to suit the people at Nasa.
Mark was particularly interested in Da Vinci's robot in order to replicate the correct movement of muscles and joints in light of that Robot scientists had not been able to solve the issue. He was also the one to coin the name 'Anthrobot' which is made up of the words 'Anthropology' (study of human origin and development) and 'Robot' (mechanical automaton).
DA VINCI ROBOTICS: WHAT THE ROBOT NEEDED TO DO!
Mark's robot inspired by Leonardo Da Vinci's designs will be maintaining systems within the space station especially when humans are not present to do so. The robot will also be a builder of machines that will be used on Mars related missions. We can best understand the duties of robot by imagining Nasa transmitting digital orders and plans to it which it then follows perfectly like a human engineer would do, however without taking any breaks. Ultimately, the robots must be asnimble-fingered as a human mechanic.
DA VINCI ROBOTICS: MARK ROSHEIM'S 5-YEAR PROJECT
Mark's interest and work in Leonardo's robot began when he read a book by Carlo Pedretti, anItalian scholar (who discovered Leonardo's lost notebook containing the robot named Codex Huygens in 1950). Mark then initiated his own in-depth research, which took half a decade from start to finish.
DA VINCI ROBOTICS: CARLO PREDETTI'S ANALYSIS
Leonardo's initial robot design is scattered in parts throughout the notebook. This is most probably due to the fact that Leonardo hadn't finished converting his life's work into a cohesive encyclopaedia. If he had done so, he would have collated all the pieces of the robot into a comprehensive chapter. Mark therefore set about to piece together all parts of the robot.
DA VINCI ROBOTICS: IMPRESSIVE COMPUTER MODEL USED TO PIECE TOGETHER THE ROBOT!
Mark used a sophisticated computer animation programme to construct Leonardo's robot of which he then presented to Nasa. However, at the beginning of his project, he created physically based prototypes.
DA VINCI ROBOTICS: MARK'S PROCESS OF CONSTRUCTION
Mark initially travelled to Florence where a portion of Leonardo's notebook is kept. He also wanted to see and walk the same streets that Leonardo had done so when he lived in Florence over 400 years ago.
Mark's intention was to use Leonardo's robot as a significant starting point to create a robot for Nasa. He firstly took Leonardo Da Vinci sketches of the male skeleton and constructed it in steel metal including Leonardo's designs of full motion joints. This allowed him greater insight into Leonardo's drawing as he had now also had a working prop to work with.
Mark then changed the Robot's make-up by exchanging cables, which had represented sinew and muscles for electric motors. Actuators that controlled the limbs were then situated just behind the joints on the limbs in order to best lend themselves to imitating the correct movement of the body.
DA VINCI ROBOTICS: ROBOT OFFERED SIGNIFICANT INSIGHT!
In terms of a machine imitating a human beings' motion correctly, joints usually offer the greatest amount of difficulty with the wrist providing the most significant obstacle. With the aid of Leonardo's research however, Mark found a way to achieve full motion of the wrist, which is fundamental in a dexterous hand.