TITLE: LEONARDO DA VINCI PAINTING ST JEROME
DATE: 1481 (UNFINISHED)
DA VINCI'S AGE: 29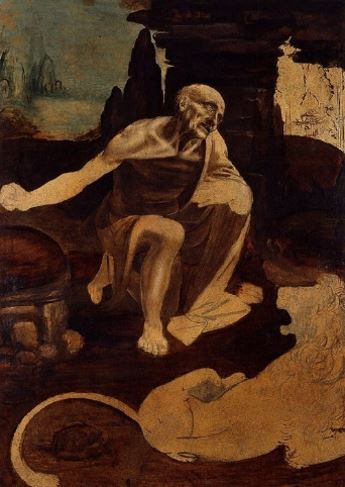 ~ Leonardo Da Vinci Cartoon St Jerome ~
:Leonardo's unfinished masterpiece.
SUBJECT MATTER:
St Jerome was a doctor of the Church who lived around 400 years AD. St Jerome produced an important translation of the bible from the languages of Hebrew and Greek into Latin.
TYPE:
Historical Church figure, cartoon, chalk, pen and ink
INNOVATION INTRODUCED:
The detail of Jerome reflects a deep interest and understanding of the anatomy of the male body.
The figure is drawn in the foreground of a jagged rocky plain and a lion at his feet (there is a belief that he helped a lion in pain by removing a splinter from its paw). This gives the picture an unsettling feel to it.
The humble St Jerome is also drawn from an unusual raised side angle.
AUTHENTICATION:
This is confirmed as Leonardo's work.