ITEM: LEONARDO DA VINCI HELICOPTER (Also known as the Arial-Screw).
TYPE: Invention, Transportation, Flight.
DA VINCI DRAWING: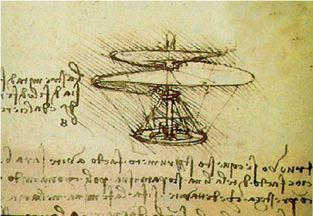 MAIN REASON FOR ITS CREATION:
* To achieve flight.
* To further explore the potential of the screw / spiral shape.
INNOVATIONS INTRODUCED:
First ever helicopter concept.
Used a aero-dynamic screw which had only previously been applied to a children's toy from Asia.
NEXT DATE OF INVENTION:
1861: Gustave de Ponton d'Amécourt was a French inventor that created a model powered by steam.
INFORMATION:
This design incorporates Leonardo's love for the shape of the screw and spiral, which has a variety of engineering applications. The shape is one that can be observed in nature, as is the case when sycamore seed fall from sycamore trees.
DA VINCI QUOTE:
'If this instrument made with a screw be well made – that is to say, made of linen of which the pores are stopped up with starch and be turned swiftly, the said screw will make its spiral in the air and it will rise high.'
NAME OF DA VINCI'S NOTEBOOK CONTAINING THE INVENTION:
Codice Atlántico (Codex Atlanticus).