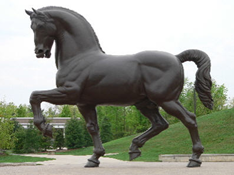 TITLE: GRAN CAVALLO.
DATE: 1495 (CLAY PRE-MODEL FINISHED, BRONZE CAST STATUE UNFINISHED)
LEONARDO'S AGE: 43
PATRON: Ludovico Sforza's tribute to his predecessor Francesco Sforza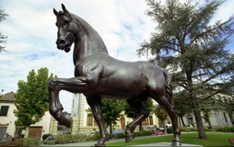 This picture shows a replica statue which resides in cultural park, Milan and gives an idea of what his bronze horse would have looked like.
NOTE:
The invading French armies destroyed the original clay model in 1498.
SUBJECT MATTER:
The horse was the symbol for the aristocratic House of Sforza.
TYPE:
Clay horse pre-model that was intended to be covered in bronze afterwards.
SIZE: 24 feet high (7.32 metres high)
INNOVATION INTRODUCED:
Was to be the largest monument cast in Bronze.
Invented a way to cast a Bronze monument on a huge scale.
PRESENT LOCATION:
Had resided in Milan but was destroyed by the French armies in 1498.
INFORMATION:
Though Leonardo only completed the pre-model to the Bronze Horse he was to build, the clay model was said to be awe inspiring and both an artistic and technical masterpiece within itself.
MORE INFORMATION:
Leonardo studied for a pouring on a large scale by talking to cannon and bell makers and also casters of bronze in Milan.
Whomever could have created the Horse out of bronze successfully would have had achieved worldwide recognition and fame. Leonardo did achieve a level of fame and respect for his clay pre-model. He however also fell victim to those individuals jealous of his genius and labelled him a man who did not finish his commissions as the Horse was meant to be made of bronze, not clay.
PREPARATION DRAWINGS: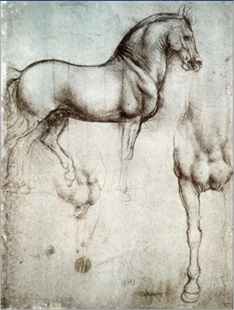 This drawing was created in 1480, two years before Leonardo entered the service of Ludovico Sforza.
The above could be just a drawing of a horse which Leonardo had been working on for his own edification or, Leonardo may have been planning to win Ludovico's patronage and then create the magnificent horse years in advance.
OTHER LEONARDO DA VINCI SCULPTURES:
Click here if you want to read about a newly found sculpture believed to be made by Leonardo.