LEONARDO DA VINCI MATHEMATICIAN AND HIGHER MATHS!
Leonardo had a grasp for higher mathematics but he did not know how to express it in the academic form of numbers we recognise in mathematics today. Interestingly, Albert Einstein was somebody who also learnt the language of higher mathematics later in his career. Even when Leonardo learnt the language of mathematics he preferred computing through geographical shapes to calculate equations, which as always, enlisted his artist abilities. Leonardo's main pursuit in mathematics remained the exploration of the world of proportionality and spatial mechanics.
WHY LEONARDO PREFERRED DRAWING MATHS
Pure maths excludes the inexplicable qualities of reality that are better replicated with a drawing. Maths is only a tool to produce an outcome and thus Leonardo preferred drawing as his primary tool to execute his studies of proportionality and spatial awareness, which are used in his engineering designs.
The drawing of mathematics is possibly how some ancient civilisations calculated mathematical precisions in their construction, as exhibited in the pyramids of Egypt for example.
In the diagrammatic form of mathematics, a greater sense of spatial awareness is needed than formal mathematics, such as displayed by the Rhombicuboctahedron.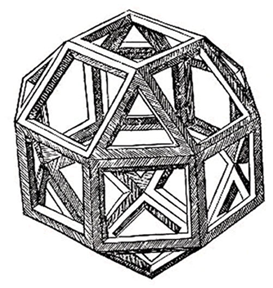 ~ Leonardo Da Vinci Mathematician! ~
LEONARDO NOT TAKEN SERIOUSLY BY ACADEMICS
Academics of Leonardo's time did not give much weight to Leonardo's work in any field other than painting, as he did not have had a formal education (whereas he had received a vocational apprenticeship in art). Leonardo had developed the following important attitude at a young age due to not having had a formal academic education where he wrote;
'I cannot quote from eminent authors as they can, these trumpeters and reciters of the works of others. I know that all knowledge is vain and full of error when it is not born of experience, and so experience will be my mistress.'
MATHS PUBLICATION
An academic scholar that Leonardo studied traditional mathematics from and later worked with was Luca Pacioli whom Leonardo later contributed in producing a book with in the 1490's. Leonardo created drawings of geometrical shapes that had a mathematical significance in engraved plate form, which were to then to be used in printing presses. The work produced was published in 1509 and called Divina Proportione.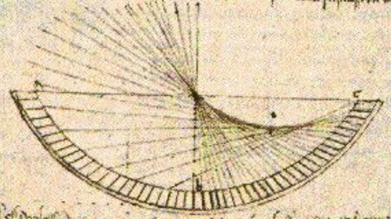 ~ Leonardo Da Vinci Mathematician! ~
MATHEMATICS AND PROPORTIONALITY IN LEONARDO'S ARTWORK
– THE LAST SUPPER PAINTING –
VANISHING POINTS AND OPTIMAL VIEWING POINT
Leonardo had a general rule of perspective that a painting should be positioned at eye level of the viewer. The Last Supper defies this rule with the vanishing points in the distance being around two times higher than the eye level of the viewer. This painting has an amazing effect of having an optimal viewing position regardless of where the viewer stands. This is a result of Leonardo ignoring one of his positioning rules of having the painting 'at least twenty times the greatest height and width of the work' and instead he employed an illusion of proportionality.
MUSIC AND LEONARDO DA VINCI PAINTING
Music is closely linked to mathematics in terms of the rhythmic patterns a piece of music can employ. Leonardo understood this. In the painting of the Last Supper, it was recently discovered that the proportions of the Last Supper painting were mathematical in nature (apart from the use of a vanishing point), which derive themselves from the musical equation of 12:6:4:3.
If measured in equal units, the paintings' size is 6 by 12 units. The back wall measures 4 units and the windows are 3 units. In terms of the musical equation, 6:12 represents an octave, 4:6 denotes a fifth and 3:4 is a fourth. Leonardo left clues to his thinking with the following quotes, 'resonance between visual and aural harmonies' which shows he saw a correlation between the two (painting and music) and 'offer praise to the harmonies of the universe' was used to signify his intention of using the equation proportion. Within the painting, music melds the harmonies of the paint and mathematics.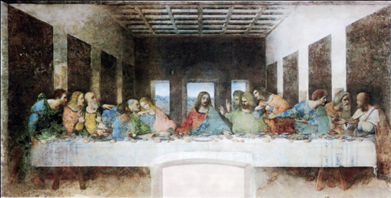 ~ Leonardo Da Vinci Mathematician! ~
– VITRUVIAN MAN TAPS INTO THE UNIVERSE –
In a similar way to the Last Supper painting's musical harmonies with the universe (see above), Leonardo's Vitruvian man's perfect mathematical proportions could be said to tap into the universal creation on an intimate level. It is as if Leonardo believed that there was a close link between the makeup of the Universe and the make up of a human being.
To read more about the Vitruvian man and it's exploration of the Golden ration, click on the link below the picture.