TITLE: LEONARDO DA VINCI'S GINEVRA DE BENCI PORTRAIT.
DATE: 1473
DA VINCI'S AGE: 21
PATRON: Ginevra de' Benci
She was an aristocrat.
PAINTING USED FOR: Portrait.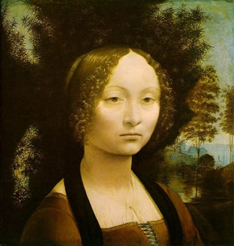 :Leonardo's first known portrait painting!
The bottom of the painting, which contained Genevra's arms and hands, was removed due to damage of the painting.
SUBJECT MATTER:
Leonardo was commissioned to commemorate Ginevra's wedding to a person called Luigi Niccolini.
TYPE: Oils on Poplar wood
SIZE: 38.8 × 36.7 cm's
PRESENT LOCATION:
The National Gallery of Art, Washington D.C., USA.
INFORMATION:
Leonardo placed Genevra in front of a juniper bush as in Italian, 'juniper' is a pun on her name, 'Ginevra De Benci.'
MORE INFORMATION:
The Juniper bush also symbolized chastity, an especially respected quality at the time.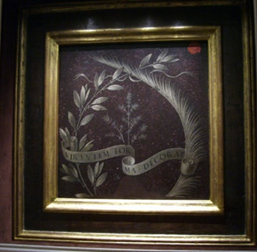 Underside of the portrait.
AUTHENTICATION:
Completely the work of Leonardo Da Vinci.