LEONARDO DA VINCI MAPS AND HIS CARTOGRAPHY WORK
Cartography is the process of map making and is an other subject area that Leonardo undertook and mastered! View this page dedicated to Leonardo's map-making work.
---
EXAMPLES OF LEONARDO DA VINCI CARTOGRAPHY WORK!
– LEONARDO DA VINCI MAPS: TOWN IMOLA, ITALY –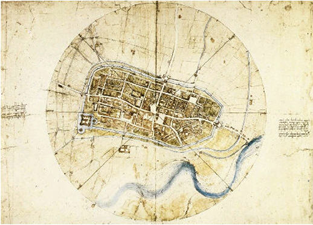 LEONARDO'S AGE: 50
Leonardo created a map of Cesare Borgia's stronghold, a town plan of Imola in order to win his patronage. When presenting it to Cesare, the powerful leader must have been left in a state of awe. People at the time had hardly heard of maps let alone seen one. Maps themselves held a magical feel to them at the time as it would have seemed as if one was holding a piece of land in the palm of their hands! Cesare hired Leonardo upon seeing the map as his chief military engineer/ architect.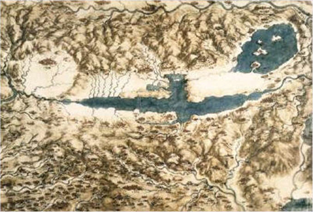 YEAR: 1502
LEONARDO'S AGE: 50
In this map of the Chiana Valley in Tuscany, Leonardo created this map for his patron Cesare Borgia to again hand him an advantage of having an overlay of the land. Leonardo took special care to record all the rivers to give his patron the greatest strategic tool possible.
Leonardo also would have created this map in conjunction with his other project, which was to construct a dam from the sea to Florence. The advantage of a dam in the river Chiana would have been to allow a supply of water to sustain the canal during all seasons.
– LEONARDO DA VINCI MAPS: ROMAN SOUTHERN COAST –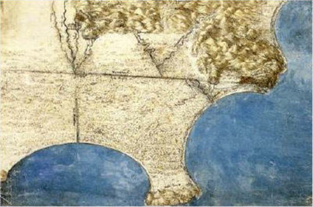 LEONARDO'S AGE: 63
This map is linked to Leonardo's work for the Vatican when he lived in Rome where he planned to drain the Mooreland in southern Rome.
HOW THE FIRST LEONARDO DA VINCI MAP WAS CREATED
In 1502, Leonardo walked the distances personally in order to measure all the contents of the map, including every street and field. Leonardo did not have devices of any sort that cartographers of today rely on. Leonardo still achieves a precise layout of the stronghold in Imola. A task such as this was of an undertaking of a monumental scale.
THE NEXT BEST THING TO FLYING FOR LEONARDO!
Amap shows the person who beholds it a 'birds eye view' of the land. More importantly, it gave Leonardo an idea of what the landmust look like if he was the one flying over it! Maps were another way forLeonardo to pursue his fascination of flight through his art.
THE FUTURE OF MAP MAKING
In 1502 to 1507, Leonardo pushed the art and science of cartography to the point of which for many years after will not be reproduced again.
– INTERESTING POINTS ON LEONARDO DA VINCI'S MAP MAKING-
UNPRECEDENTED ACCURACY
Maps were by Leonardo's time an old invention having been used since around 8,000 B.C. They were however extremely rare in use and certainly not in the absolute detail and accuracy with which Leonardo had introduced.
A MAP IN THE 15TH CENTURY WAS THE MAGICAL ADVANTAGE IN WAR
The holder of a map in a time when others did not have a one was a major tool for protecting ones stronghold, or attacking another's if you had a plan of their layout. It is likely that the map would have had a magical feel to it from the perception of the person viewing it.
Map-making mixed a key element for Leonardo directly. Leonardo as a painter believed, he and other artists such as himself had the divine ability to encapsulate whatever they envisaged. They also had the power to hand a patron in a sense, his territory in the palms of his hands. What the owner of the map could now do was to plan a strategy of defense more effectively by pinpointing weaknesses of the territory in a more overall manner. With the territory laid out in front of him, Cesare Borgia (Leonardo's patron at the time) was less likely to overlook any weaknesses in his strategy. Leonardo had in effect, handed over to him a tool to increase his military capabilities.